Marker Inscription
Fredrick Gottleib Mueller (1873-1947) was commissioned to design this Art Deco structure, the first erected as a Hamilton municipal building, in cooperation with other Hamilton architects, George Barkman and R. E. Smith. This building was renamed in Mueller's honor in 2008. The federal Public Work Administration project, completed in 1935, is one of many significant Hamilton residential, commercial, industrial, and public buildings designed by Mueller. The Hamilton native studied at the Armour Institute of Technology in Chicago and apprenticed there before starting his business here in 1901. Later he was joined by two associates, Walter Hair and Ralph Hetterich, and the firm became the leading architectural firm in the city. The firm he founded continues (as of 2013) as SHP Leading Design. Mueller also served on numerous civic groups and was a member of the city parks board and city planning commissioner for nearly 30 years. Mueller recognized the artistry of 19-year-old Robert McCloskey and recruited him to create exterior and interior relief sculptures for this building.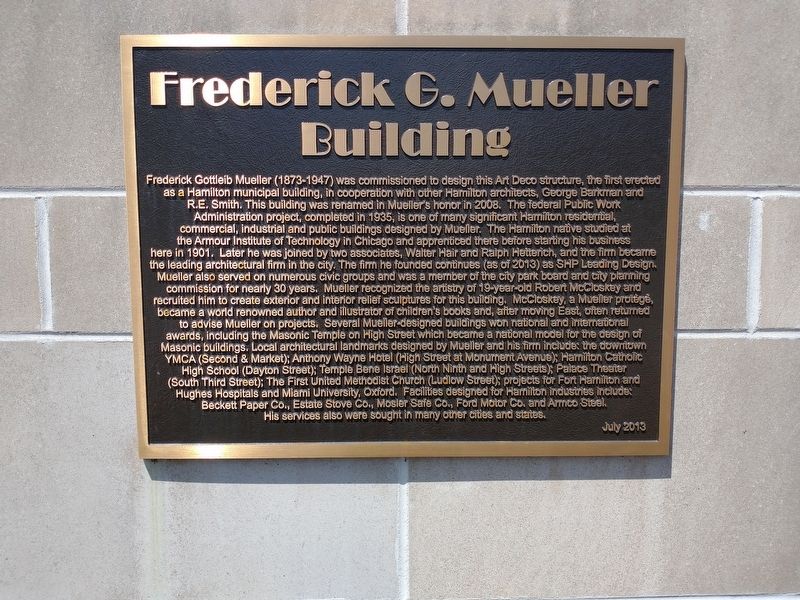 Photographed By Craig Doda, June 3, 2022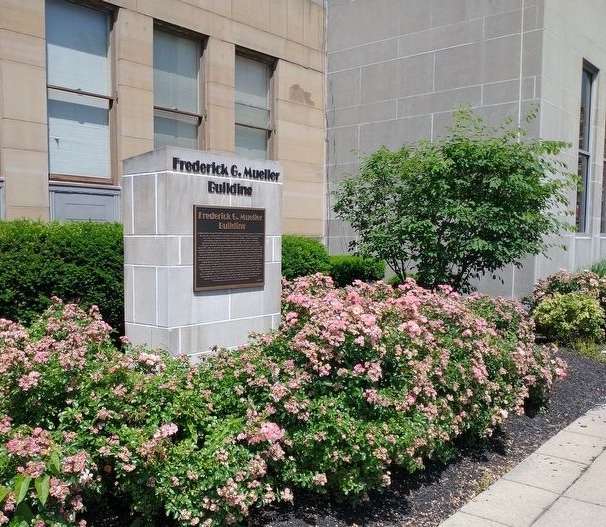 Photographed By Craig Doda, June 3, 2022
 McCloskey, a Mueller protege, became a world renowned author and illustrator of children's books and, after moving East, often returned to advise Mueller on projects. Several Mueller-designed buildings won national and international awards, including the Masonic Temple on High Street which became a national model for the design of Masonic Buildings. Local architectural landmarks designed by Mueller and his firm include: the downtown YMCA (Second & Market); Anthony Wayne Hotel (High Street & Monument Avenue); Hamilton Catholic High School (Dayton Street); Temple Bene Israel (North Ninth & High Street); Palace Theater (South Third Street); The First United Methodist Church (Ludlow Street); projects for Fort Hamilton and Hughes Hospitals and Miami University, Oxford. Facilities designed for Hamilton industries include: Beckett Paper Co., Estate Stove Co., Mosler Safe Co., Ford Motor Co., and Amco Steel. His services also were sought in many other cities and streets.
Other Nearby Markers
Other nearby markers are within walking distance of the Mueller Building.
Less than a minute walk –
 • Replica Liberty Bell marker
• Lentil and Lentil Park markers
Less than a 5 minute walk – 
• Heritage Hall marker
• Fort Hamilton marker
• Flood Level marker