Robert McCloskey
(September 15, 1914 – June 30, 2003)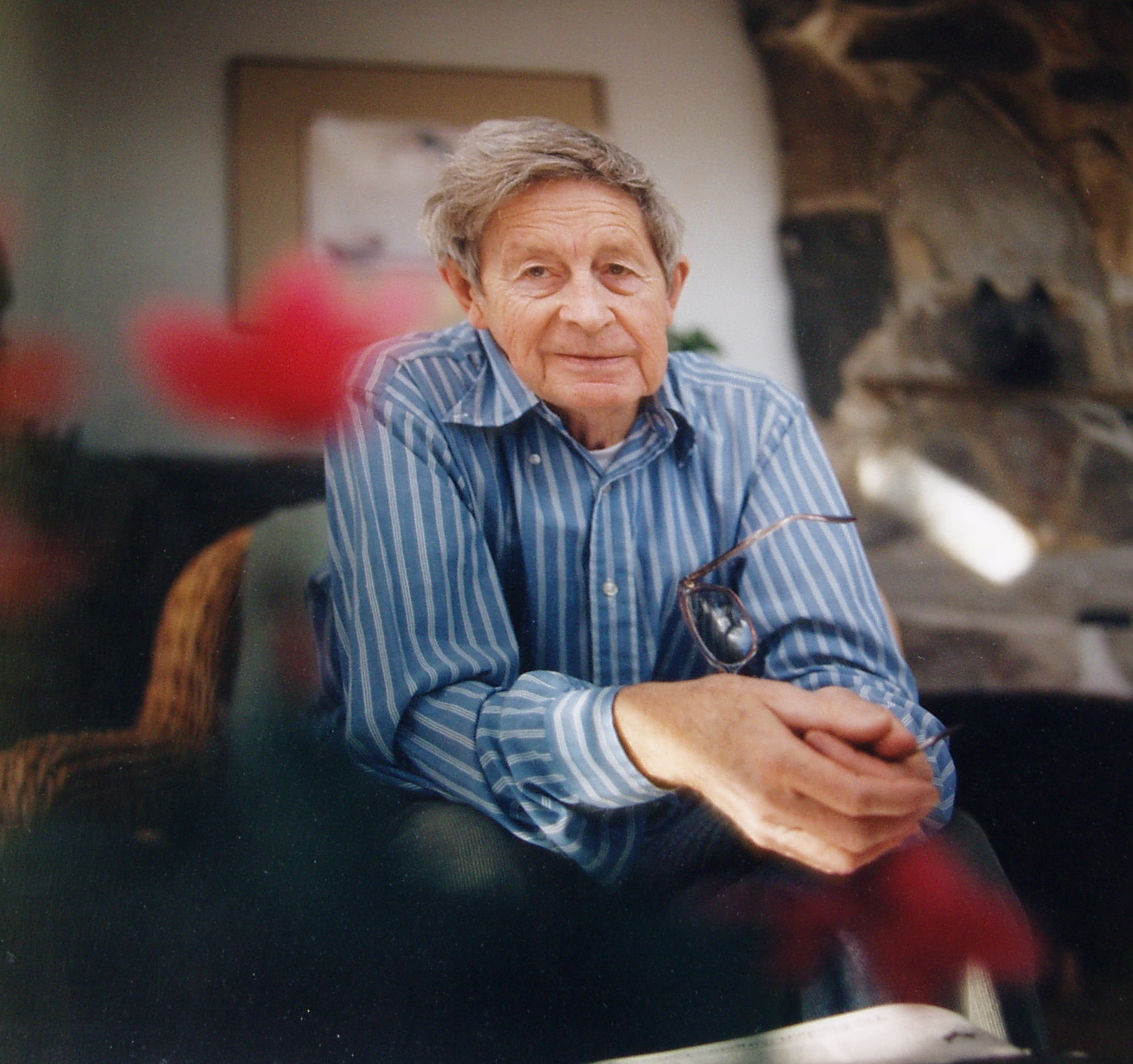 "I get a lot of letters. Not only from children but from adults, too. Almost every week, every month, clippings come in from some part of the world where ducks are crossing the street"
– Robert McCloskey
McCloskey was born in Hamilton, Ohio, on September 15, 1914. McCloskey lived in a modest home, attended Hamilton's public schools, and spent his childhood in the Hamilton of the 1920s and 1930s. The hamilton area was a midwestern influence he would re-create in several of his later books. McCloskey took an early interest in the arts. He took piano lessons, and, in his high school years, he taught a soap carving and model airplane class at Hamilton's YMCA. In addition to the piano, McCloskey played the drums, oboe, and the harmonica. From his father he inherited an interest in machines and inventing and continued to enjoy those interests throughout his life.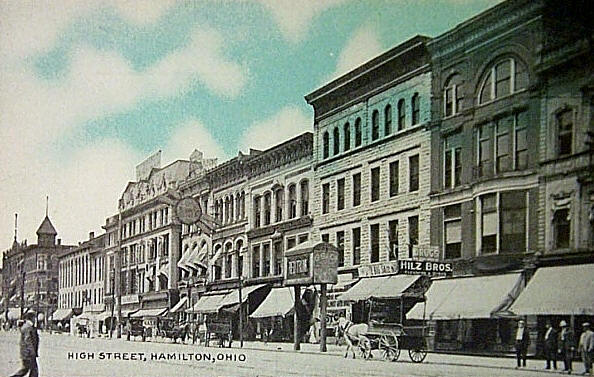 High Street, Hamilton, Ohio
"I was carving larger and larger things, from bars of soap to trunks of trees."
As McCloskey's devotion to creation through art grew, he began expressing himself through drawing, painting and, of course, sculpture. McCloskey said, "I was carving larger and larger things, from bars of soap to trunks of trees." While a counselor at YMCA Camp Campbell Gard, McCloskey carved a totem pole. Camp Director, Casey Klippel, and a Sioux friend, Isaac Greyearth, advised on the symbolism while McCloskey carved the 500 pound cedar balk. The success of the totem pole project eventually led to his first significant commission in 1934, to design the bas-reliefs and cast aluminum pieces decorating Hamilton's new municipal building. McCloskey was only nineteen, but he already exhibited the skill and devotion to work in a variety of mediums.
Throughout high school McCloskey illustrated the Hamilton High School annual and worked on the George Washington Bicentennial Calendar for the American History Club. He accepted a scholarship to the Vesper George Art School in Boston. As a professional artist, McCloskey moved to New York and entered the National Academy of Design. He exhibited his work and was given the President's Award; he also had exhibits at the Tiffany Foundation and at the Society of Independent Artists in Boston. Despite all of this, McCloskey's art never fully took off. "I never sold an oil painting, only a few watercolors at the most modest prices, and financially my art career was a bust."
"I never sold an oil painting, only a few watercolors at the most modest prices, and financially my art career was a bust."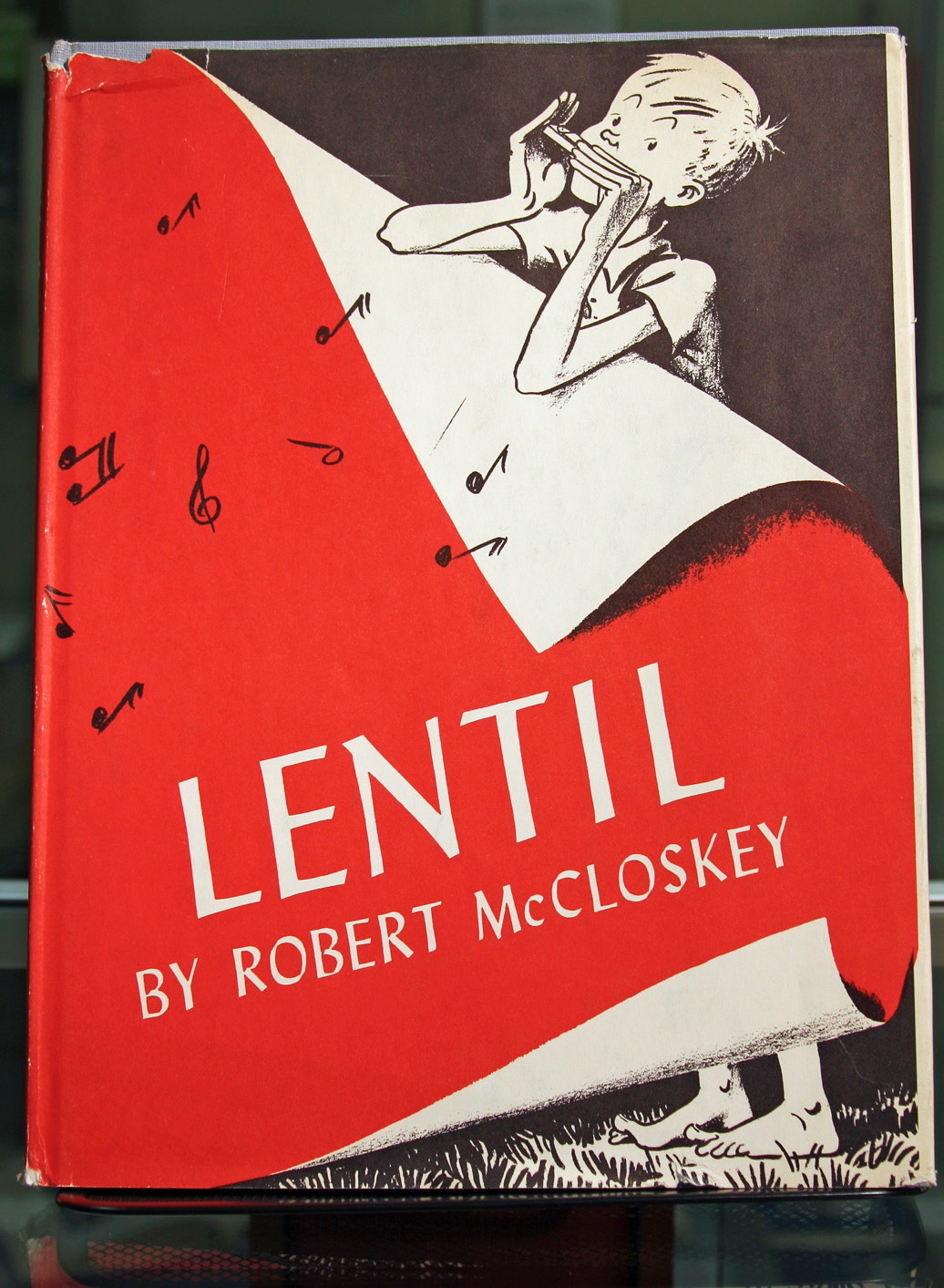 McCloskey's first book, Lentil, published in 1940
Because of these initial setbacks McCloskey began to realize that commercial work could possibly be more profitable. In 1935 while on spring break from art school, McCloskey and a few friends traveled to New York. Here he met with May Massee of Viking Press. They discussed his art and his hometown but the most important thing to come from this initial meeting was the impression Massee made upon the young Robert McCloskey. Three years passed before McCloskey returned to see Massee but this time he brought with him an early draft of Lentil. The fictional Alto, Ohio, was the setting for McCloskey's first book, Lentil, published in 1940. A favorite among children of all ages, Lentil tells the adventure of a young boy who, saddened that he couldn't sing, learns to play the harmonica. When asked about the unusual name assigned to his character, McCloskey told the former Columbus citizen that Lentil was only a nickname to hold the place until he had the chance to choose a better name for him. "Everybody liked the nickname, so I let it stand."
That same year McCloskey married Margaret Durand, a children's librarian and daughter of Newberry Award-winning author Ruth Sawyer. It was around this time that he began work on his second and perhaps best-known book, Make Way for Ducklings, which won the prestigious Caldecott Medal in 1942. In the story, a mother duck searches the streets of Boston for a safe place to raise her young. McCloskey began the book by recalling the hilarious scenes of ducks crossing grid-locked Boston streets. To illustrate the detailed movements of his characters with authenticity, McCloskey bought a half-dozen southern mallards at a city market from a poultry dealer. He spent the next few weeks crawling around his studio, watching the ducks and sketching them as they waddled around the room. He even put the ducks in a bathtub to sketch their swimming movements. Evident from the richly detailed charcoal illustrations, McCloskey returned to Boston to sketch the book's background alive with parks, bridges, fences, streets, people and cars. He finished the illustrations, but writing the story proved more difficult. McCloskey rewrote the book over and over. It took him several versions to come up with the right duck names (Jack, Kack, Lack, Mack, Nack, Ouack, Pack, and Quack). The finished product was a big hit; Make Way for Ducklings has sold more than two million copies.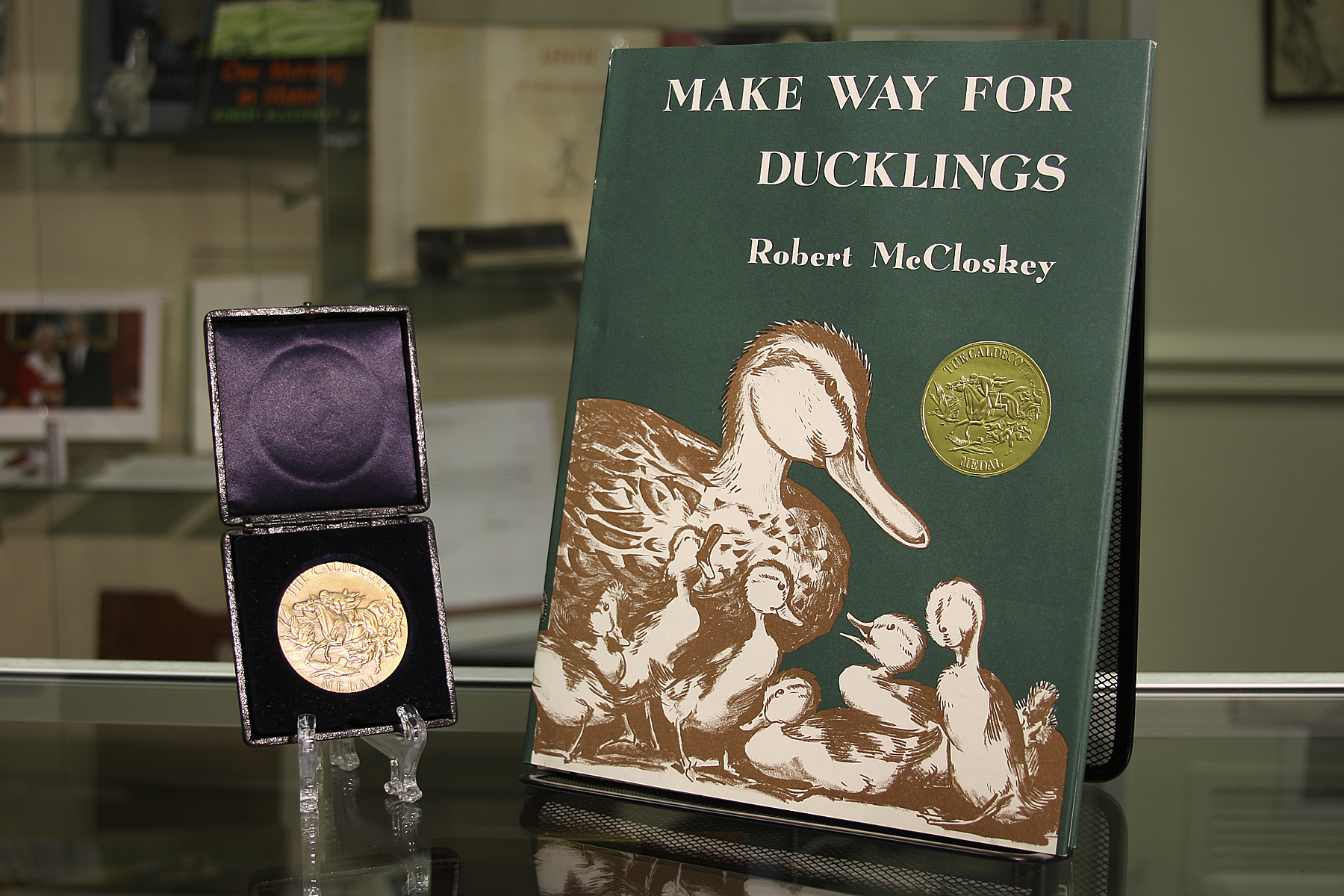 Make Way for Ducklings, won the prestigious Caldecott Medal in 1942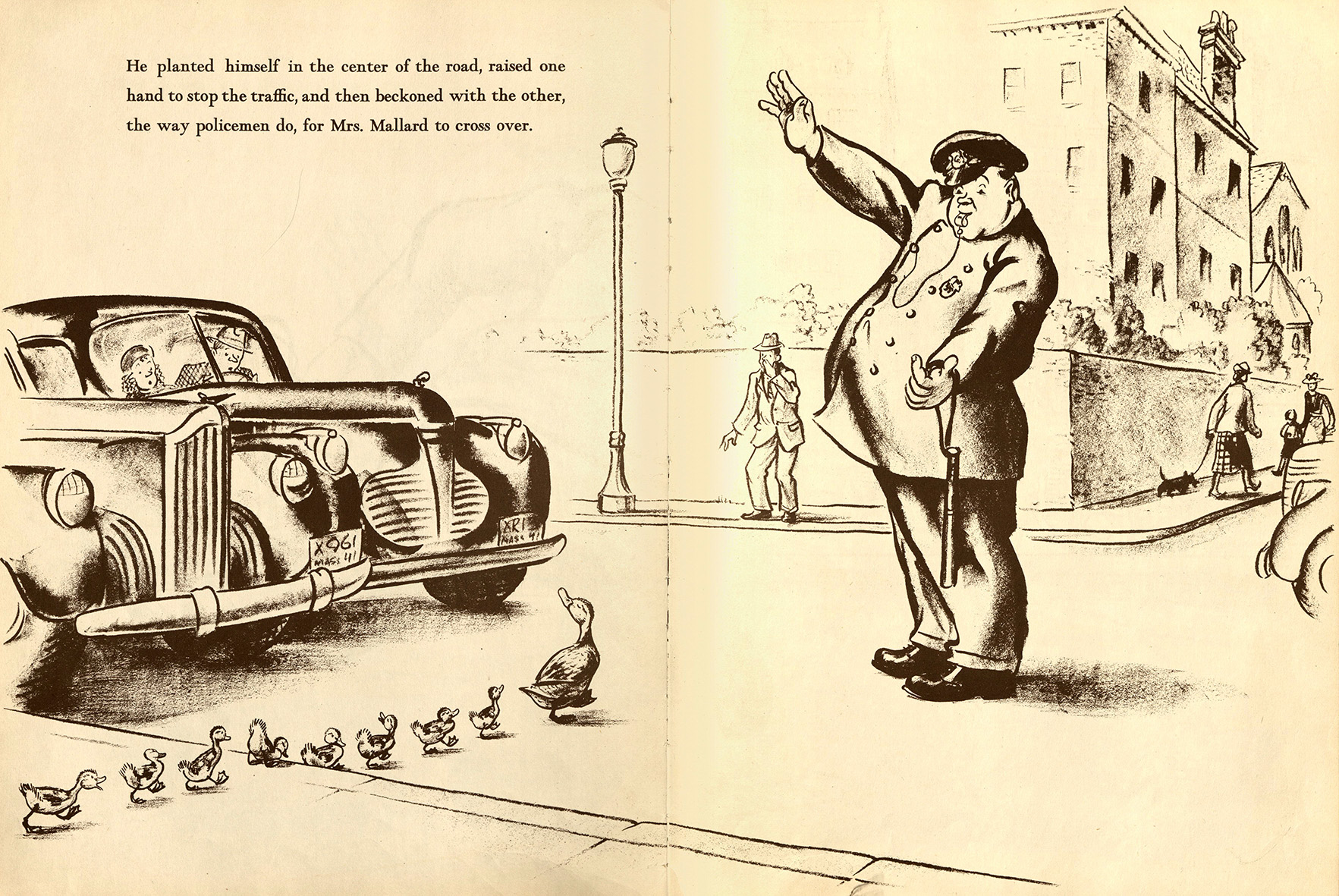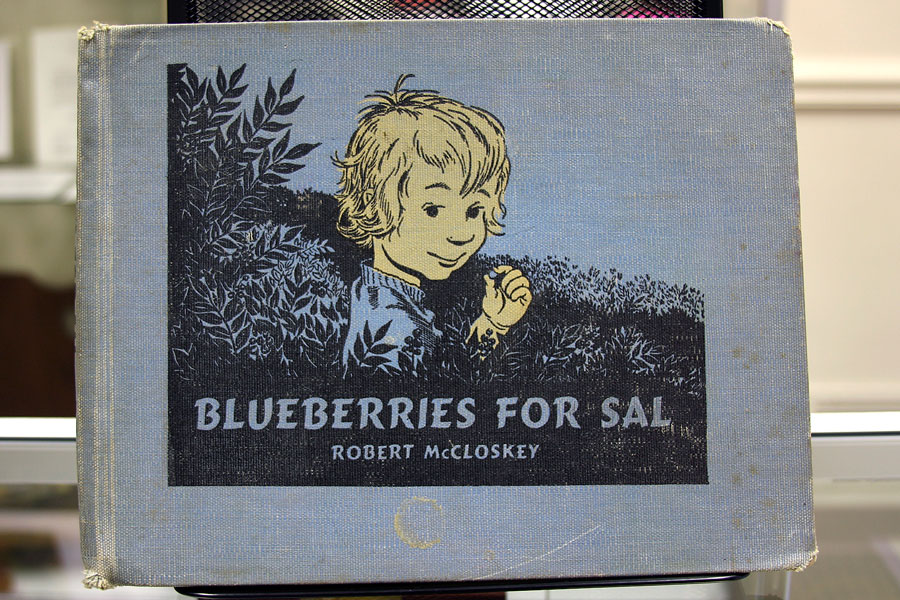 Blueberries for Sal, published in 1948
Between 1943 and 1945 McCloskey served in the U.S. Army. A technical sergeant based at Fort McClellan, Alabama. McCloskey's artistic talents were put to use drawing pictures for Army training manuals. In the middle of war McCloskey published his third book, Homer Price, about a young inventor. It was so popular that several years later he wrote a sequel, Centerburg Tales (1951). In 1945 the McCloskeys' first child, Sally, was born and McCloskey moved his family to an island off the north coast of Maine. Jane was born in 1948. Many of his future books reflect McCloskey's love of the ocean and for his family. The book Blueberries for Sal, published in 1948, was named for his older daughter, Sally. The delightful tale involves a mother and daughter on a berry-picking walk in the Maine woods. Elsewhere in the woods, a mother bear and her cub are out walking. The action escalates when mothers and babies get mixed up in a humorous moment that ends harmlessly.
In 1952 McCloskey's younger daughter, Jane, appears in One Morning in Maine, a cozy family story with a life lesson told in an affectionate way. Acclaimed for its illustrations, the story features Jane losing a baby tooth, and learning that it's a sign of growing up. McCloskey's seventh book, Time of Wonder, won the 1958 Caldecott Medal, and he became the first author to win two of the awards. He was given many other awards for his writing, including honorary doctorates from Miami University at Oxford, Ohio, and Mount Holyoke College in South Hadley, Massachusetts.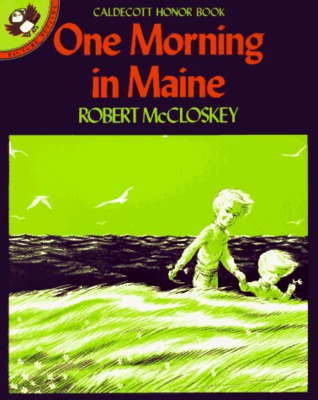 McCloskey published his final book in 1963, Burt Dow: Deep Water Man. The book retained much of McCloskey's style and connected with children by portraying an ordinary but humorous character engaged in familiar facets of life. A retired fisherman living on a New England shore, Burt Dow's routine is divided between his two old leaky boats; one he uses for travel to odd jobs, the other boat, no longer suited for maritime purposes, now contains flowers in his front yard. He uses leftover paint from his odd jobs to spruce up his boat-shaped lawn decoration.
Robert McCloskey died on June 30, 2003, in Deer Isle, Maine. His books are still read by thousands of parents and children. Because of him, kids from Ohio can read about blueberry picking in Maine, and children in Maine can pretend they play harmonica for their Ohio town. Though he started out as a musician and inventor, and then became an artist, McCloskey found another passion in writing. He once told an interviewer that publishing Lentil was more exciting than winning the Caldecott Medals: "…it was as though I was sort of tied up in a paper bag or in a gunny sack with a rope around the neck of it, and all of a sudden…everything sort of spilled out! Voom!"
Authored and Illustrated
Lentil, Viking, 1940
Make Way for Ducklings, Viking, 1941
Homer Price, Viking, 1943
Blueberries for Sal, Viking, 1948
Centerberg Tales, Viking, 1951
One Morning in Maine, Viking, 1952
Time of Wonder, Viking, 1957
Burt Dow, Deep-Water Man: A Tale of the Sea in the Classic Tradition, Viking, 1963
Illustrated
Anne Burnett Malcolmson, Yankee Doodle's Cousins, Houghton, 1941.
Robert Hobart Davis, Tree Toad, Stokes, 1942.
Claire Huchet Bishop, The Man Who Lost His Head, Viking, 1942.
Tom Robinson, Trigger John's Son, Viking, 1949.
Ruth Sawyer, Journey Cake, Ho!, Viking, 1953.
Anne H. White, Junket, Viking, 1955.
Keith Robertson, Henry Reed, Inc., Viking, 1958.
Robertson, Henry Reed's Journey, Viking, 1963.
Robertson, Henry Reed's Baby-Sitting Service, Viking, 1966.
Robertson, Henry Reed's Big Show, Viking, 1970.
Media Adaptations
Filmed versions of Make Way for Ducklings, 1955, Lentil, 1957, Time of Wonder, 1961, The Doughnuts (based on Homer Price), 1963, Blueberries for Sal, 1967, The Case of the Cosmic Comic (based on Homer Price), 1976; and Burt Dow: Deep-Water Man, 1983. All by Weston Woods.
One Morning in Maine was made into a filmstrip and cassette with teacher's guide, Viking, 1979.
A film version of Homer Price was produced by Miller Brody.